Eat Yourself Skinny with Zoodles!
December 28, 2016
Lose weight fast & easy with these low carb, keto recipe e-books!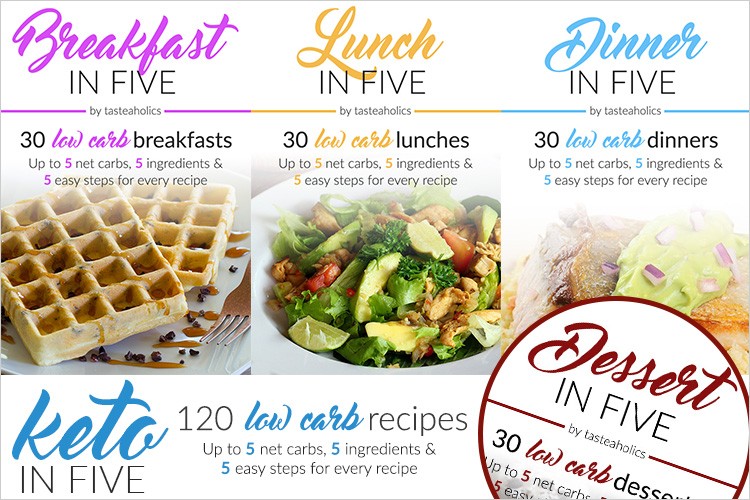 Spiralizing your favorite veggies into noodles is a fun & tasty way to get your veggies in and create low carb recipes. These recipes are quick, easy, loaded with veggies & will help you lose weight! Don't see your fave noodle recipe? Let me know what I should add in the comments below!

Need a spiralizer? Check out these highly rated picks:

1. Zucchini Noodles with Creamy Avocado Pesto
2. Easy 10 Minute Asian Zucchini Noodles (low-carb, Paleo)
3. Skinny Garlic Parmesan Zoodles
4. One Pot Teriyaki Chicken Zoodles
5. Thai Peanut Chicken and Sweet Potato Noodles
6. French Onion Zoodle Bake
7. Bruschetta Grilled Chicken Zoodle Bowls
8. Spiralized Sweet Potato Enchilada Skillet
9. Zucchini Alfredo
10. Creamy Sundried Tomato + Parmesan Chicken Zoodles
11. Zucchini Noodles (Zoodles) Greek Salad
12. Creamy Ricotta Zucchini Noodles
13. Chinese Five Spice Ground Turkey Zucchini Noodles
14. One Pot Spicy Thai Zoodles
15. Sesame Almond Butter Zucchini Noodles
16. Chicken Zoodle Soup
17. Sweet and Sour Cucumber Noodles
18. Zucchini Noodle Pasta Carbonara
19. Chicken and Zucchini Noodle Caprese
20. Skinny Bang Bang Zucchini Noodles
21. Pesto Zucchini Noodles and Shrimp
22.
One Pan Kung Pao Chicken Zoodles (Zucchini Noodles)
23. Sweet Potato Zoodle Pad Thai
24. One Pan Lasagna with Ribbon Zucchini Noodles
25. 20 Minute Healthy Chicken Parmesan
26. Creamy Lemon Zoodles
27. Zoodles with a Healthy Turkey Meat Sauce
28. Pesto Zucchini Noodles with Roasted Tomatoes and Grilled Chicken
BONUS: 7 Creative Combos for Spiralized Veggies
Check out this handy guide from FIX