Basil Pesto Zoodles + Veggie Bullet Giveaway!
March 19, 2017
Lose weight fast & easy with these low carb, keto recipe e-books!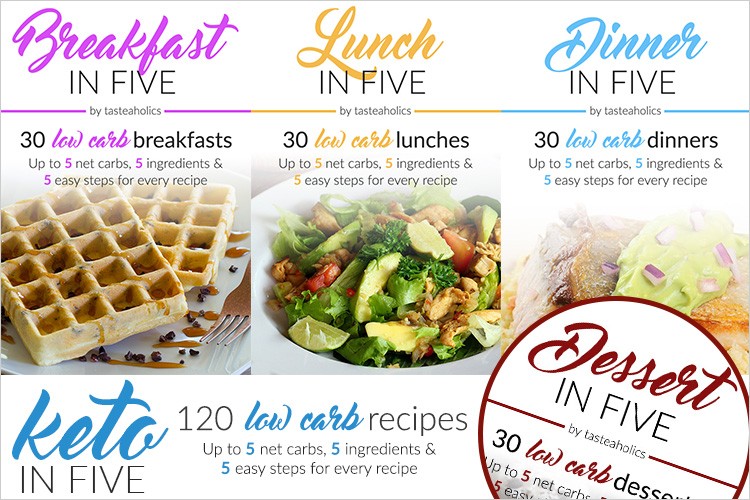 **I received a Veggie Bullet in exchange for this blogpost. This in no way influenced my review of the product. All thoughts are my own***
If you know me or frequent my blog you quickly realized I am zoodle obsessed. Ever since the veggie noodle has come on the scene a few years ago, I have been eating them religiously and with good reason.
Veggie noodles let you eat your favorite pasta dishes to your heart's content without over doing it on the carbs & gluten while filling you up on vitamins, fiber, and nutrition. The veggie noodle is super versatile since you can spiralize just about any veggie you want. My fave veggies to spiralize are zucchini (of course), carrots, sweet potato, & parsnips.
In my many attempts of making veggie noodles, I have tried ALL the tools. I have a handheld julienne peeler, the KitchenAid attachment, the first generation spiralizer, the 2nd generation spiralizer & even this gadget. But the best, most efficient tool I have found is the Veggie Bullet.
The Veggie Bullet is the Rolls Royce of spiralizers. It handles all the veggies you can give it with ease, precision and with little effort. Simply feed your veggie of choice into the top tube and wahla! Noodles in seconds right before your eyes. What sets the Veggie Bullet apart from regular spiralizers is the ease in which you can noodle-fy hard, root vegetables. I have the HARDEST time spiralizing sweet potatoes, parsnips & beets in the handcrank versions. The Veggie Bullet makes even the hardest vegetables into noodles in seconds. The Bullet is also versatile. Just switch out the blade and the feeder and you have a full blown food processor! Make cauliflower rice dishes, chop & shred your veg and much more!
Cleanup is also a breeze. I thought going in that a machine like this would require soaking & scrubbing but all i had to do was rinse under hot water and leave on my drying rack. Super easy!
This is my easiest, go-to zoodle recipe that requires minimal time in the kitchen before chowing down. Feel free to add extra protein, cheese or your favorite pasta dish add-ons to the below.
Recipe
1/4 cup pesto (I have a a dairy-free recipe HERE or an oil-free recipe HERE)
1 medium zucchini (feel free to use your favorite veggie!)
1/2 cup edamame, shelled
1/4 avocado
1/4 cup baby tomatoes, halved
Salt
Pepper
Feed your zuchini into the Veggie Bullet; set the zoodles aside. Prepare your preferred pesto recipe (or use store bought) and mix well with zoodles. Top with the edamame, sliced or cubed avocado & tomatoes and sprinkle with salt & pepper. Enjoy this super healthy & easy dish!
I added feta & Morning Star veggie patties for extra protein.
Now for the giveaway! Enter below for a chance to win your very own Veggie Bullet! There will be one winner.
The giveaway has ended! Thank you to everyone who entered & congrats to our winner Ketti C. from Maryland on your new Veggie Bullet!
Giveaway Rules
- Must be 18+ to enter
- Must be a resident of the US or Canada
- Please follow me on Pinterest
- Follow VeggieBullet on Instagram
Veggie Bullet Giveaway!